Check out our editor's product picks for May 2013: Touch-Free Sensate Faucet by Kohler Kohler's new touch-free Sensate faucet means no more worries about messy or full hands. The activation area is under the spout, so a simple wave of a hand, cup, pan or kitchen utensil is all it takes to turn it off or on. $675 and up; available in Atlanta at Ferguson Bath, Kitchen & Lighting Gallery.
Kawasaki Mule 4010 Trans4x4 Diesel Whether you're seeking recreation or utility, the 2013 Kawasaki Mule 4010 Trans4x4 Diesel is sure to fit the bill. The Mule easily transforms from a two-person gear hauler to a four-person transport vehicle, boasting a towing capacity of 1,200 lbs. and much more. $12,999; available in Conyers and Marietta at Mountain Motorsports.
Bigger Is Better The new Parisian 2 free-standing tub by MTI offers the same bold curves and luxurious features as the 66-inch original but with more wiggle room. Measuring 72" x 40" x 23.375", the tub is made with high-gloss Lucite cast acrylic that is stain- and scratch-resistant. $7,892 and up; available in Atlanta at Cowan Supply.
Vintage Porch Swings No porch is complete without a swing. Charleston, S.C.-based Vintage Porch Swings offers seven whimsical styles, each named after one of the owner's children, including the Joshua bed swing (shown). Available in a variety of finishes. $1,599 for twin size, including rope and hardware; www.vintageporchswings.com.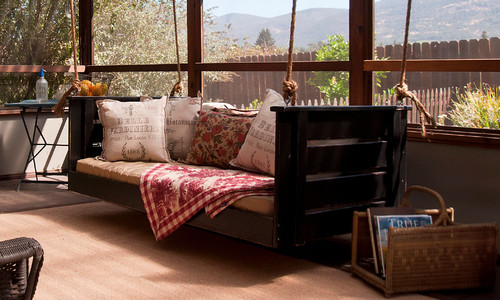 Wine Glass Lampshades by di Potter Turn existing wine glasses into votive holders with vibrant vellum lampshades by di Potter to create a fun and festive atmosphere. The toppers are available in a variety of colors, and use with flameless LED tea lights is recommended. $22 for six; www.dailygrommet.com.
Eco Intelligence Steam Iron by Rowenta Steam away wrinkles while saving 25% energy with the new Eco Intelligence steam iron by Rowenta. The iron's new and patented 3D soleplate with 400 microsteam holes helps to concentrate steam on the fabric, reducing loss of steam and conserving water. $96.24; www.qvc.com.
See more of the latest home improvement products.